One of the top reasons many travellers take a European river cruise is for the wine. The banks of many of Europe's rivers provide the perfect combination of drainage and sun exposure for the cultivation of vines that produce some very famous wines.
But one of the best wine river cruises in the world doesn't require a long haul flight.
Lynn Elmhirst, Producer and Host of BestTrip TV, explains.
The Pacific Northwest's increasingly-acclaimed wine regions have a river flowing through them. Oregon and Washington states meet at the Columbia River as it flows westward towards the Pacific Ocean.
Our week-long UnCruise Adventure on the Columbia River tapped into some epic themes and gave us experiences that rival any river cruise in Europe – or the world:
· We sailed in the footsteps of Lewis and Clark's historic expedition to the Pacific through the Northwest, on a vintage vessel that's designed to evoke the American frontier era of exploration;
· Our cruise gave us front row seats to take in the spectacular scenery of the Columbia River Gorge and its awe-inspiring transition from temperate rainforest to desert-like landscapes and dramatic cliffs; and
· And it brought us into towns and communities along the way that have staked a claim to fame as world-class wine and culinary destinations.
Although most UnCruise Adventures emphasize soft adventure experiences like kayaking and other water sports off the ship, and zodiak landings in remote locations for hiking and land exploration, our Rivers of Wine cruise highlighted the region's exquisite wine and cuisine.
And for good reason.
River of Wine
On both sides of the Columbia river, in both Oregon and Washingtonstates, a critical mass of viticulture is gaining world-wide recognition.
Oregon has now become one of America's largest wine producing states, with hundreds of wineries growing dozens of varietals, but mainly in small-batch wineries producing artisan wines from Riesling to Viogniers, Pinot noir to Syrah, with sparkling, rose, and dessert wines that tempted our palates.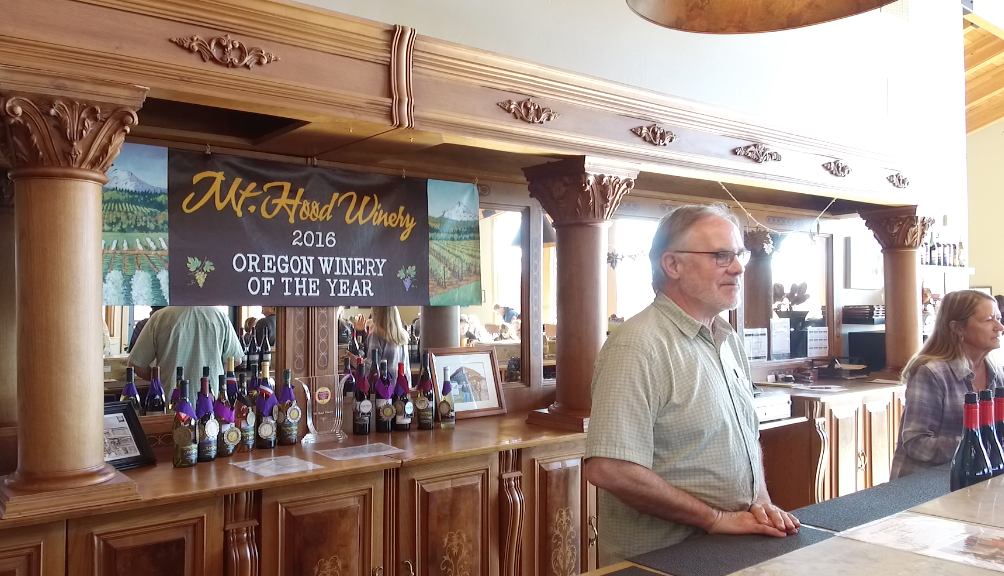 On the other side of the river, Washington state is also now one of the top wine producers in the country. While it's a relative newcomer to America's wine scene, wine has an illustrious pedigree in the state, dating back to 1825 when the Hudson's Bay Company planted the area's first wine grapes at Fort Vancouver.
Today's Washington state viticulture community is growing fast, drawing wine-makers from Europe and New World wine regions to the state's unique terroir and conditions for producing premium white and red wines. Washington's young and internationally-influenced wine culture exhibits some of the latest trends in wine-making that visiting oenophiles – like us! love. Hand-crafting, sustainability, organic and biodynamic wines make visits to this Pacific North West wine region a must for any wine-lover.
I can't think of a more geographically diverse wine river! We visited wineries with the Cascade Mountains' dramatic Mt. Hood as a backdrop, to other vineyards just a short sail along the river thriving in almost desert conditions.
It would be nearly impossible to replicate our wine exploration of the Pacific Northwest along the Columbia River without the expertise of our UnCruise experts and guides, whose knowledge and relationships in the region gave us access to passionate local winemaker entrepreneurs who are drawing on the unique terroir (wine-producing terrain) to cultivate the grapes and craft one-of-a-kind wines – none of which we could get at home.
In fact, some of our fellow guests were on the cruise specifically to tap into that expertise to add to their wine collections. That's a clear benefit of a 'drive-to' cruise: they'd driven in some cases cross-country to leave their cars in Portland and embark the ship, ready to drive home with a new collection of vintages – and Pacific Northwest winery contacts - after our round-trip voyage.
Others, like us, were thrilled just to taste these uniquely Pacific Northwest wines in charming wineries, surrounded by vineyards, and hear the stories of the winemakers, as well as meet and sample the fruits of the labors of other culinary innovators in small communities along the river. I think all of us were inspired to find room for at least one or two special bottles in our luggage to fly home!
The wine tastings and culinary samplings during our trips off the ship were complemented by an outstanding onboard gastronomic experience.
Hyper-local ingredients, not just regional, but identified on daily menus right down to the farm and producer, were transformed into one memorable meal after another. A ship that small – with a tiny galley! – even included a pastry chef. And in addition to abundant meals, onboard tastings of local oysters, cheeses and other delicacies had us pacing ourselves, knowing more treats we'd have to try would be coming up next.
The onboard sommelier worked lock-step with the chefs to pair an outstanding range of local wines, many from wineries we didn't get a chance to visit, with each dish at dinner.
But maybe our favorite moment was on board when, local wine in hand, we immersed ourselves in the top deck's hot tub during a late afternoon sailing to watch some of the most dramatic Columbia River Gorge scenery float by as we toasted our cruise along America's River of Wine.
Start Your Wine River Cruise Trip!
All images copyright BestTrip TV/ Lynn Elmhirst.
All rights reserved. You are welcome to share this material from this page, but it may not be copied, re-published, broadcast, rewritten or redistributed.